Hybrid Pen Blanks are an awesome starting point for making unique wood pens and gifts.  Using a variety of woods, I mix casting resin color combinations in molds to create some really great pen blanks.  One of the best resins you can use for hybrid pen blanks is Alumilite Clear or Clear Slow.  
My favorite wood to use for making resin hybrid pen blanks is manzanita burl.  It can have a lighter wood color or a very dark reddish color when stabilized and makes for some really great combinations when mixed with resins.
Here are a few examples of manzanita burl hybrid pen blanks I've made here at https://MyWood.Shop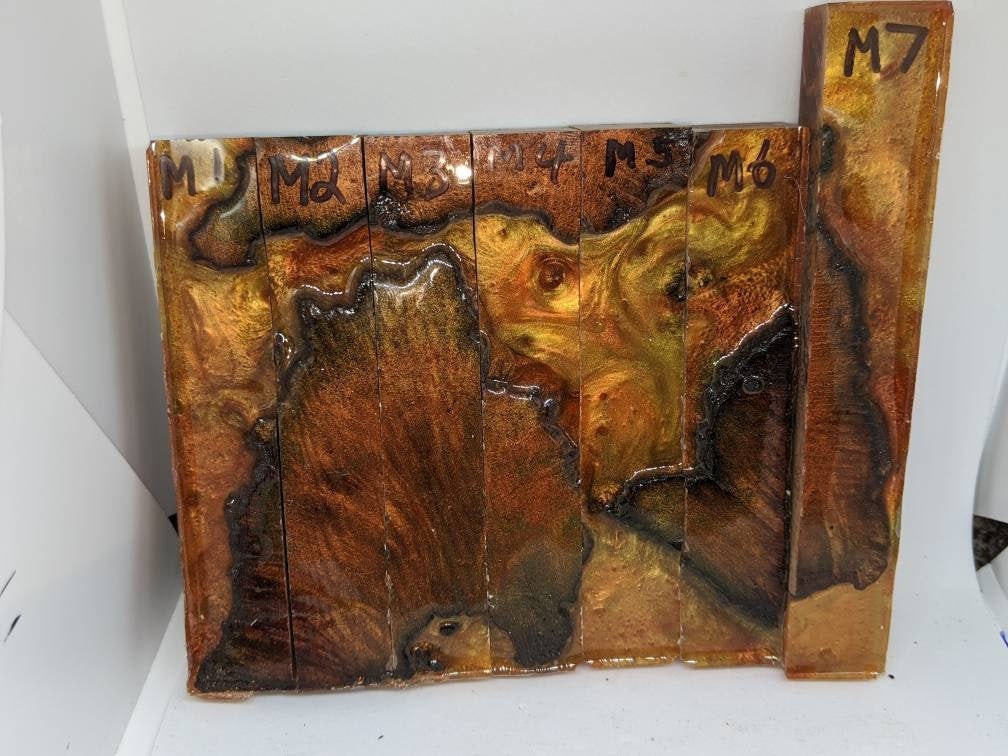 https://mywood.shop/listing/788844205/wood-pen-blank-manzanita-burl-stabilized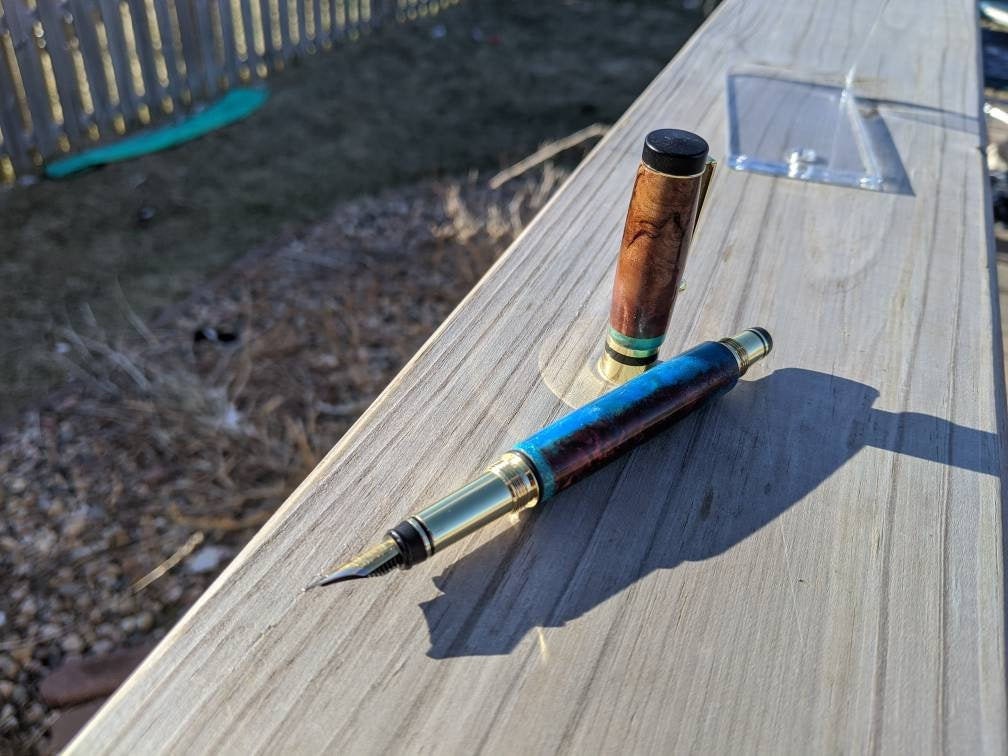 This is an elite classic fountain pen using a manzanita burl hybrid pen blank with blue casting resin.  More info and pictures available here.   https://mywood.shop/listing/788379897/handmade-manzanita-burl-wood-pen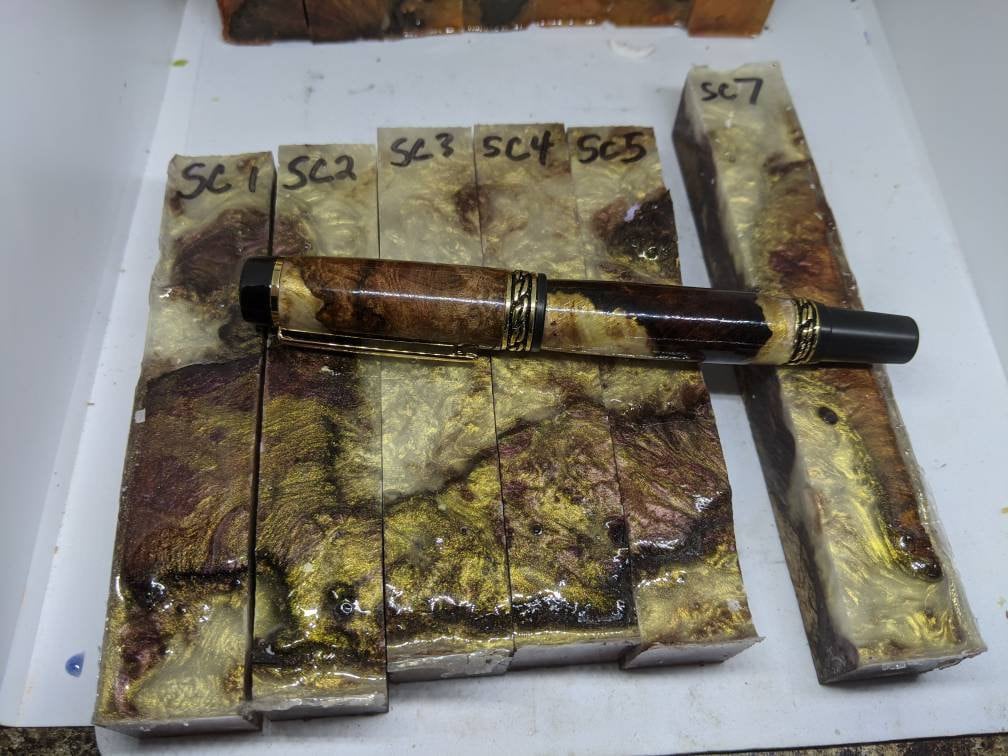 https://mywood.shop/listing/789305365/stabilized-manzanita-burl-wood-pen 
To get a better idea of what a turned pen looks like using one of these hybrid pen blanks, you can have a look at more pictures of the pen shown above here.   https://mywood.shop/listing/790955717/rollerball-pen-wood-burl-pen-wood-pen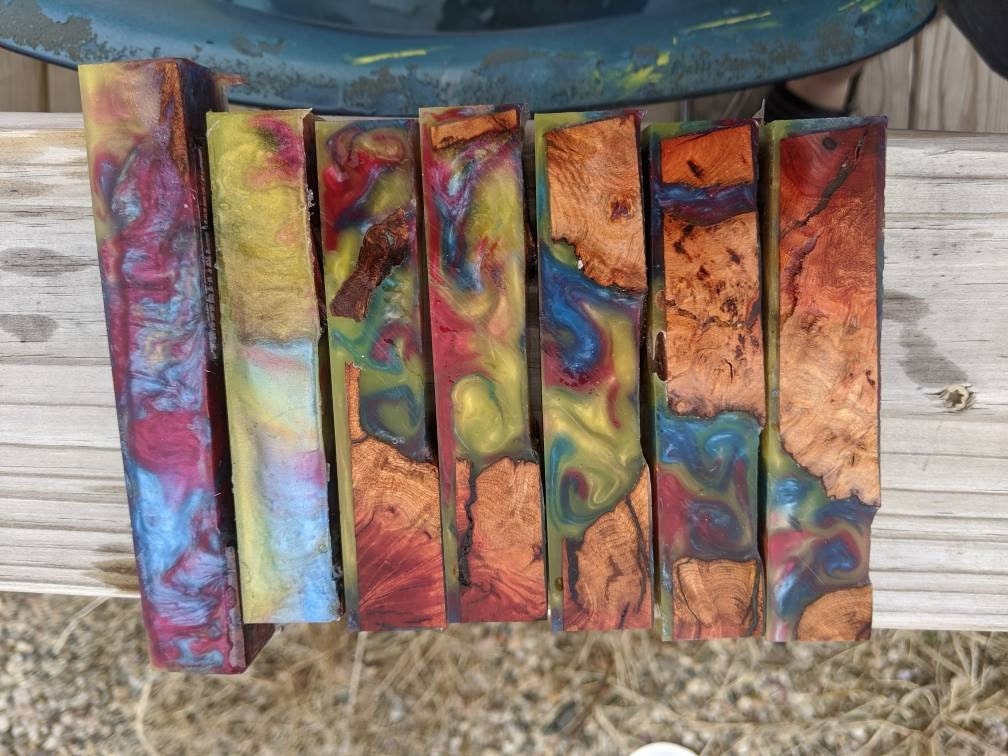 https://mywood.shop/listing/776069620/wood-pen-blanks-stabilized-manzanita 
Other types of wood I have used to make really beautiful hybrid pen blanks include maple, curly cottonwood, cholla cactus, and even pinecones and sweet gum pods.  Some examples of pen blanks using these materials are below.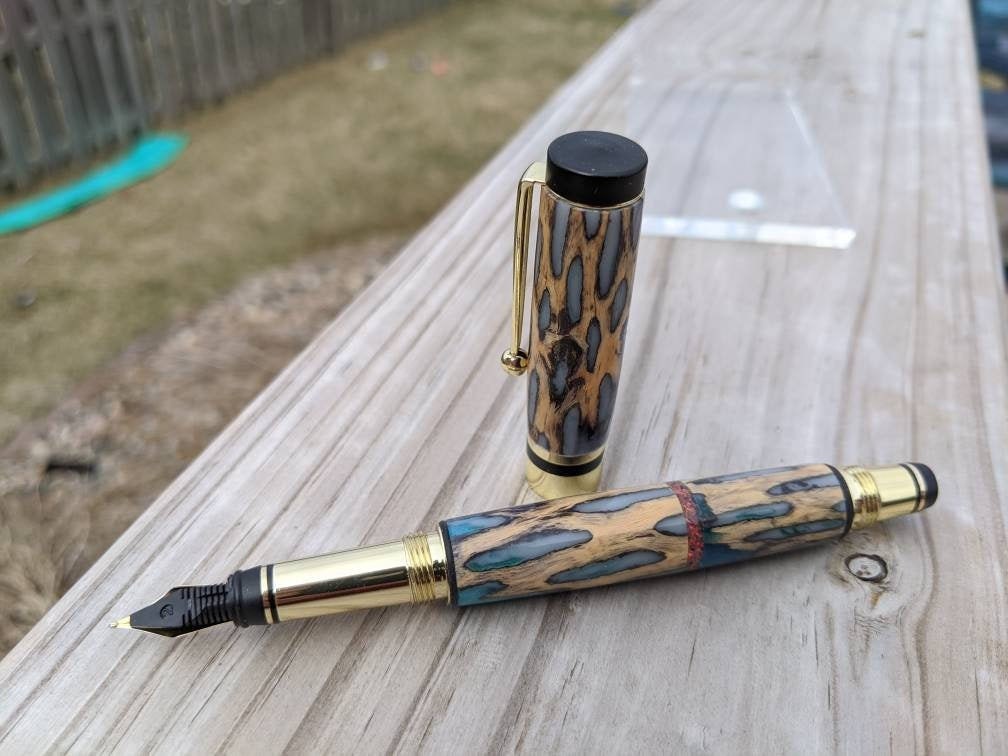 This pen uses cholla cactus and casting resin, as well as an inlay of opal.   https://mywood.shop/listing/788563207/handmade-cholla-cactus-wood-pen-fountain 
A great example of a pinecone and casting resin pen blank hybrid are these that I recently made.  Using both oranges and reds in one, and purples and whites in another, the pens you can make from these hybrid pen blanks are fantastic.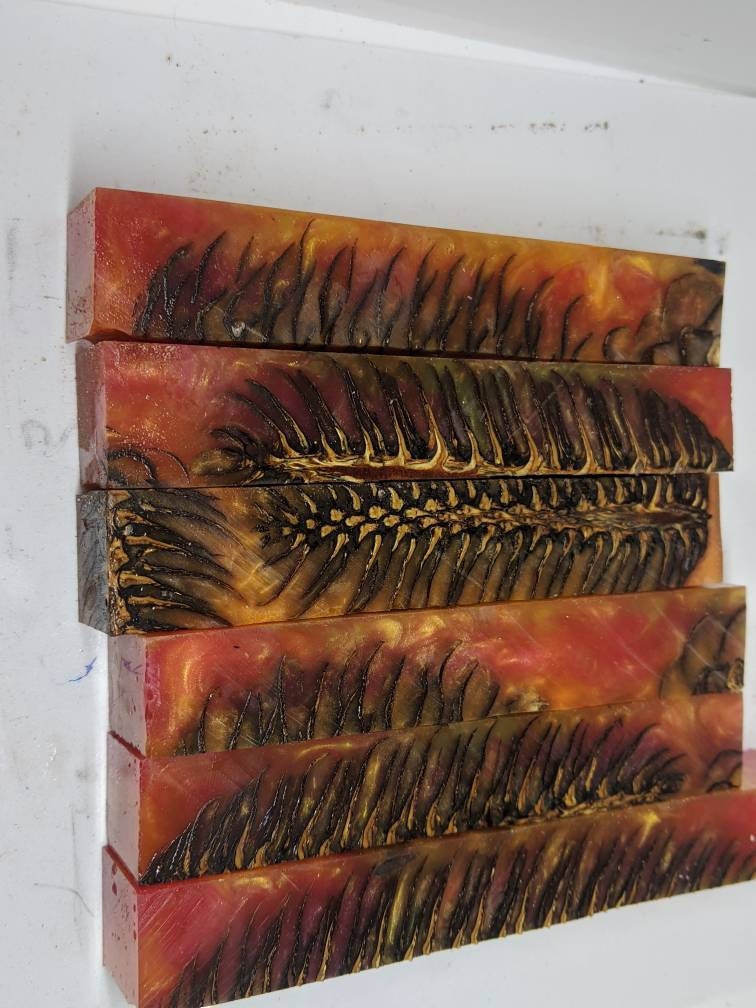 https://mywood.shop/listing/771014754/wood-pen-blank-pine-cone-pen-blanks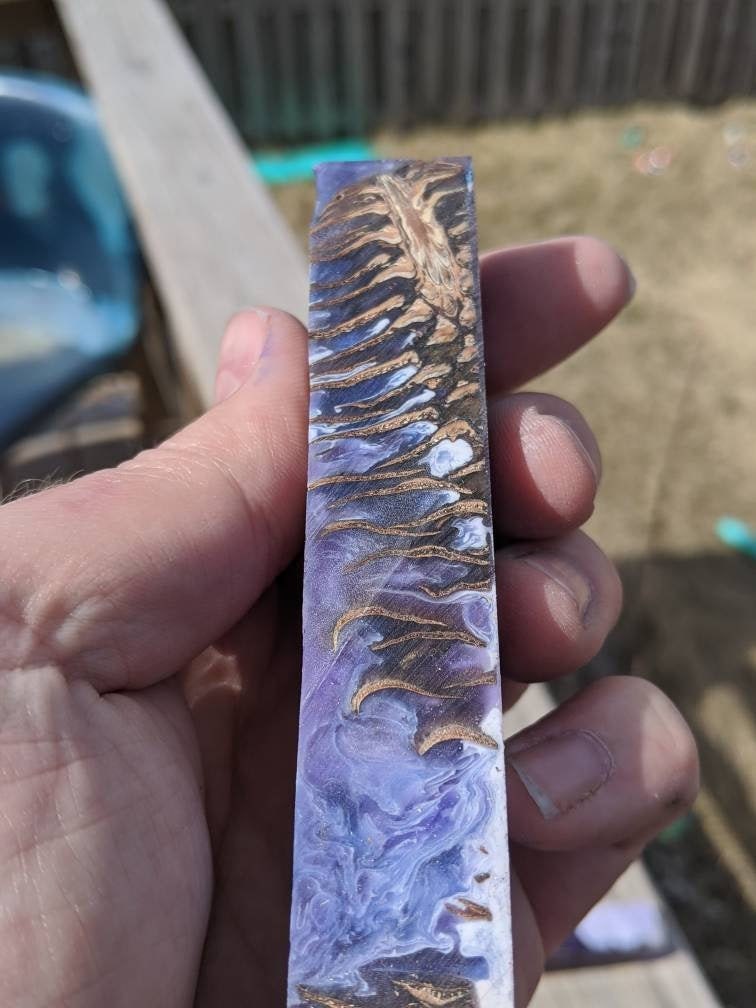 https://mywood.shop/listing/784742139/wood-pen-blank-pine-cone-pen-blanks 
Using these purple blanks, I made this very cool fountain pen.  In the photos, you can see the pinecones turn into amazing tiger stripes.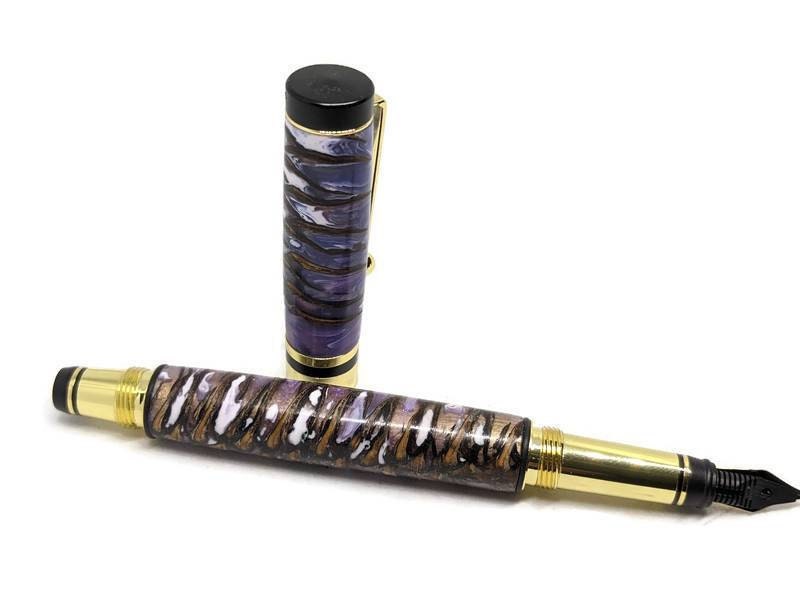 https://mywood.shop/listing/774767316/handmade-pinecone-wood-pen-fountain-pen 
Curly cottonwood has a natural waviness to it that really comes out sharp when pared with casting resin in a hybrid pen blank.  Here is an example of a really great rollerball Navigator style using green and white resin and curly cottonwood.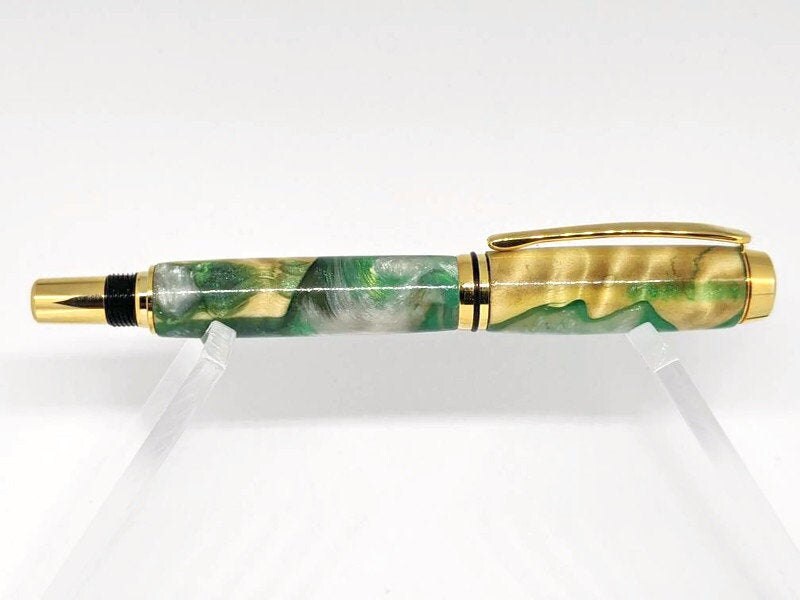 https://mywood.shop/listing/759003208/rollerball-pen-curly-cottonwood-pen-wood 
These hybrid pen blanks are made from resin that has been colored teal. They are slightly transparent and have beautiful pieces of curly cottonwood embedded in them.  Turning this pen blank would make a really great pen as a gift.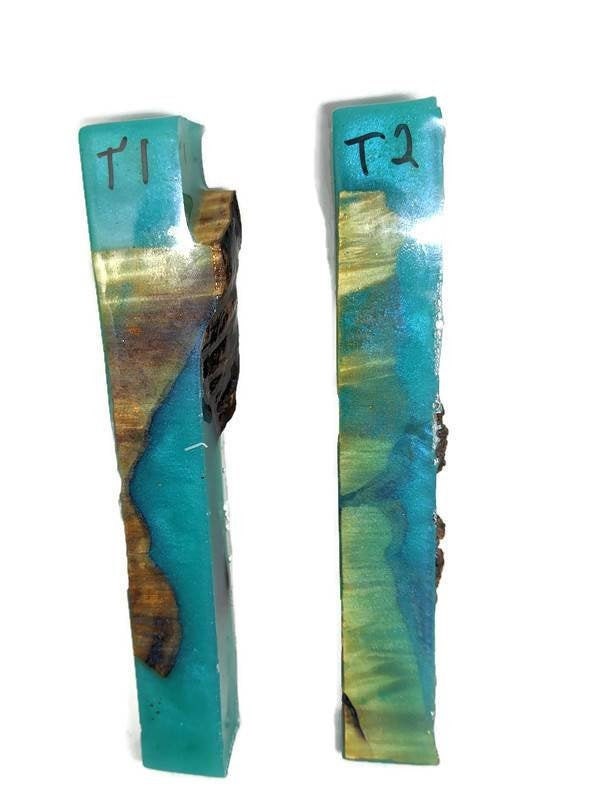 https://mywood.shop/listing/787832471/wood-pen-blank-curly-cottonwood-and-teal 
Another really cool hybrid pen blank I have made includes actual shark teeth.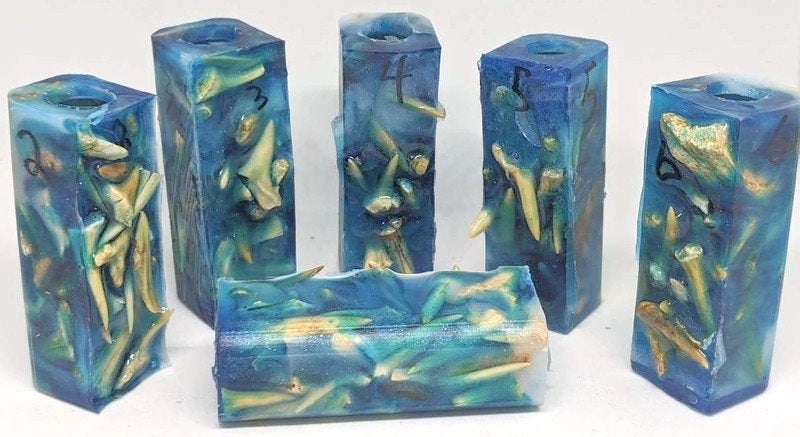 https://mywood.shop/listing/757593004/shark-tooth-pen-blank-sierra-alumilite
The resin and shark teeth when turned create a really awesome pen.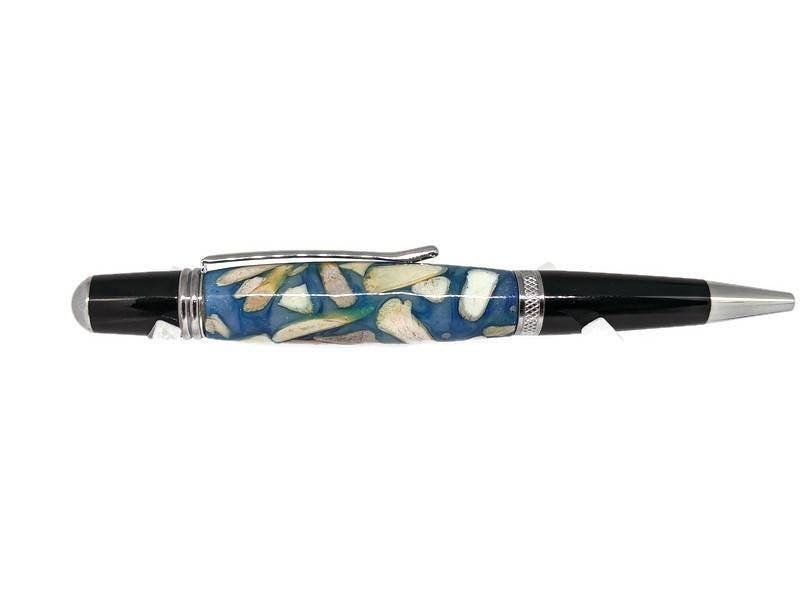 https://mywood.shop/listing/759777610/handmade-fossil-pen-white-shark-tooth
I wrote a post a while back about how to cast pen blanks using PVC and casting resin, and this works well but there are better ways.  If you want to cast hybrid pen blanks, using PVC limits you to the size of wood chunks you can use.   I would suggest you find yourself some molds like these. This set of molds is what I use when casting the hybrid pen blanks. They are big enough to account for a variety of sizes of wood.